Dressing the Bump: First Trimester
I'm well into the second trimester of my second pregnancy, but I thought it would be helpful to other mamas-to-be out there if I shared some of what I've learned about maternity-wear throughout my pregnancy. I love shopping, but I hate shopping for maternity clothes! It seems like nothing is as cute as the regular clothes, and everything seems to fit weird. But, never fear! I've come up with a list of tips for dressing your baby bump in the first trimester, and avoiding maternity clothes altogether! 🙂
1. Elastic waist anything is your friend. You're at that awkward stage where your bump is small, but it's big enough to throw the fit off for all of your work pants. I found out I was pregnant mid-summer, so I started buying all of the elastic-waist skirts I could find! There are so many cute options out there, and you can still be on trend by going up a size.
midi skirt, floral skirt, diamond skirt
And don't think you can't wear pants! Except they aren't elastic-waist (those would be granny pants) but they go by the name of pull-on. 😉 I've seen so many pull-on options this season in stores, and they are perfect for the first trimester. I especially loved these pants from Margaret M (shown below), and have even worn them in the second trimester!
2. Belly Bands are lifesavers! I wore one throughout my first pregnancy, and and it was my first purchase maternity-wise for this pregnancy! I've seen them sold at many price points, but I love this one from Target. It comes in a bunch of colors and holds up nicely.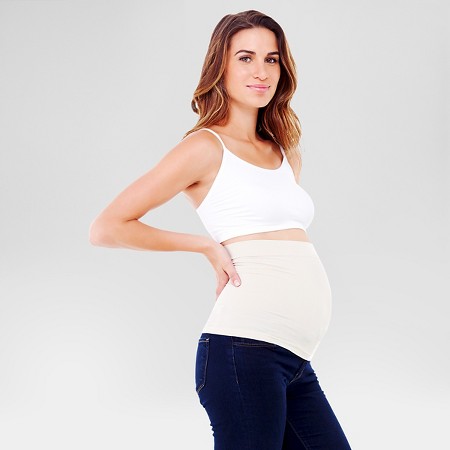 If you've never used a belly band, let me tell you how great they are! At some point, your jeans and pants will still fit well but you can't get that button closed. With the belly band, you wear it over the waistband of your pants and it keeps them up without you having to be uncomfortable all day by forcing those pants closed! In the first trimester I've just worn it folded over and it's perfect. There's a clear silicone strip on the inside bottom, so that must be how it holds the pants up. I don't know about you, but I resisted maternity clothes so this was the perfect thing to keep me in my pre-baby clothes.
3. Flowy Tops (and dresses too!). Every pregnancy is different, as are people's openness about them. I've always been healthy and never had any pregnancy complications, but I have so many friends who have and there is so much literature out there on the internet, that it's pretty common to keep things hush-hush until you're really ready. Enter flowy tops. Most of my tops for work are pretty flowy anyways, because I'm a teacher and I'm not trying to be inappropriate. I don't think anyone could tell that I had a bump going on because those tops are so forgiving. Or, all of my coworkers are just really polite!
Here are a few flowy, loose-fitting tops that I'm loving right now:
plaid shirt, olive green top, burgundy lace, white lacy blouse 
Do you have any tips for dressing the bump in the first trimester? I'd love to hear them!
Be sure to check out my other pregnancy looks: this jacquard skirt for work, this blue midi skirt for church, and this striped pencil skirt
Get my FREE guide!
Subscribe to get my free guide, 5 Ways to Dress Up Jeans & a Tee! You'll also be on the list to get the latest posts by email, as well as exclusive content!